Net-zero energy residentials
As 40% of the energy consumption in Europe can be related to the construction sector, we are determined to become global frontrunners within sustainable real estate development. The Norra Vitsippan project outside Stockholm pioneers our green ambitions.
We use prefabricated construction modules in wood as this significantly reduce the carbon footprint. We also combine geothermal heating, solar collectors and solar cells to achieve both low embodied carbon and net-zero energy consumption, meaning the properties will generate as much energy as they consume in one year.
Focus on sustainability and modularisation
In Salem, a small family-friendly commuter suburb 30 minutes outside of Stockholm, seven multifamily buildings and a total of 108 apartments are under development. The project uses modern modular construction in wood to reap the benefits of industrialisation and sustainable materials.
The project reaches net zero energy partly though a hybrid solar and geothermal system where high temperatures from solar collectors on three buildings are stored and utilised to increase the temperature from geothermal as well as for warm water production. To fully reach net-zero, solar cells on four buildings produce electricity used in operation. Excessive electricity production is sent out to the grid and electric car chargers will be installed to correspond with future demands.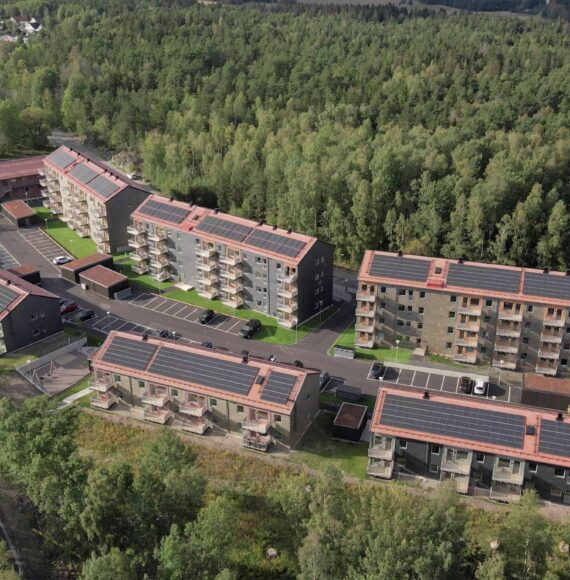 PROJECT SUMMARY
Project type: Residentials

Location: Salem, close to Stockholm, Sweden

Sustainbility profile: Wood core construction and pioneering hybrid solar/geothermal net-zero energy solution HYSS

Size: 108 apartments, 7 buildings

Developer: Skanska Hyresbostäder

Completion: 2021
HYSS for net-zero energy
High temperatures from the solar collectors are stored directly in the water/brine heat tanks. For 7-8 months a year solar heating alone manages to heat the storage tank above 60ºC without supplementary energy from the heat pump.
When the heat pump is operating it uses local solar PV electricity to the extent possible combined with preheating of the brine fluid from the solar heat collectors before it enters the heat pump. When the warm water tank is fully heated, solar heat is being used to recharge the borehole or ground loop.
In this way the temperature recovers in the energy storage faster and results in increased efficiency of the heat pump. Potential to improve efficiency to up to 2 times conventional ground source heat pump.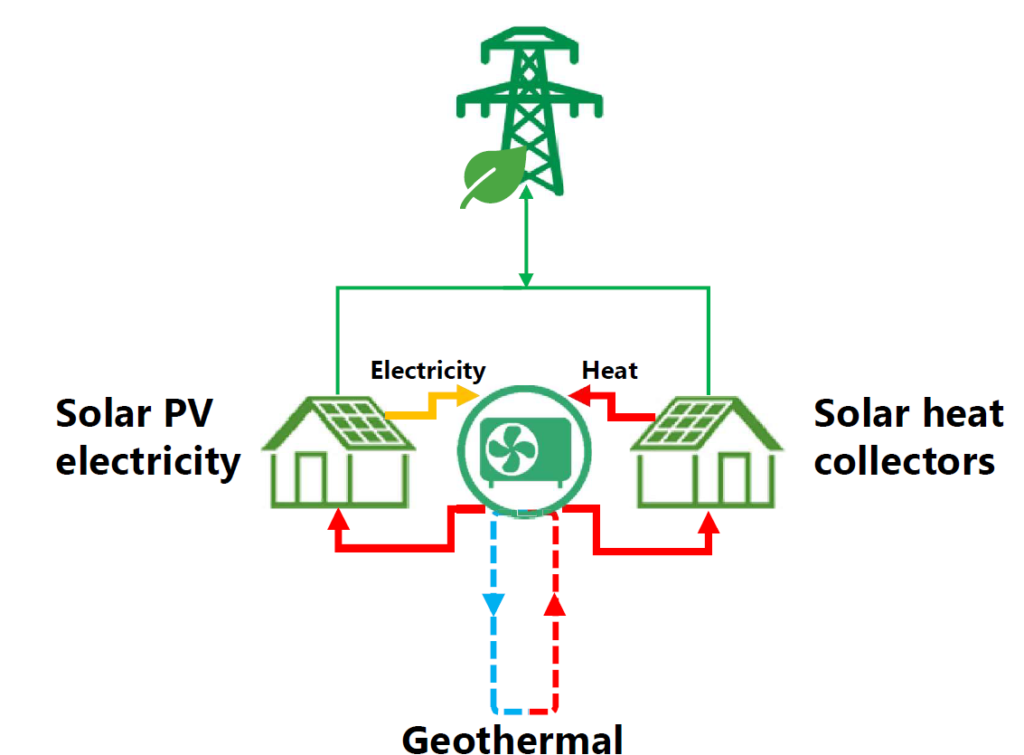 "With Norra Vitsippan, we want to contribute with more attractive and accessible housing in the Stockholm area where there is a widespread housing shortage – and at the same time push the boundaries of how residentials can be developed more climate-smart."

Rickard Langerfors