OPTIMISING CARE HOMES USING VR
For the purpose of designing the best possible care homes, both for the residents and the care providers, we have embarked upon the research project "HOME" – Housing Optimisation Measure for Elderly.
In collaboration with SaaS-based virtual twin platform Spinview and eye tracking research provider Tobii, we are developing a digital analysis tool, using virtual reality technology to identify which elements in buildings promote well-being. The goal is to create a digital tool that can be used when developing care homes.
Testing virtual environments
The research project is expected to result in a scalable method that can be used when planning and designing care homes, with the purpose of maximising the comfort, in a cost and resource efficient way.
The analysis tool will use VR technology to examine how different populations, such as healthcare personnel and residents in care homes, react to different environments. To measure what triggers emotions and promotes well-being for people, eye tracking will be used to measure eye movements and GSR (Galvanic Skin Response) to measure sweating as a result of an emotional reaction. Combining these two methodologies will provide a thorough understanding of the link between what people perceive visually and their emotional reactions.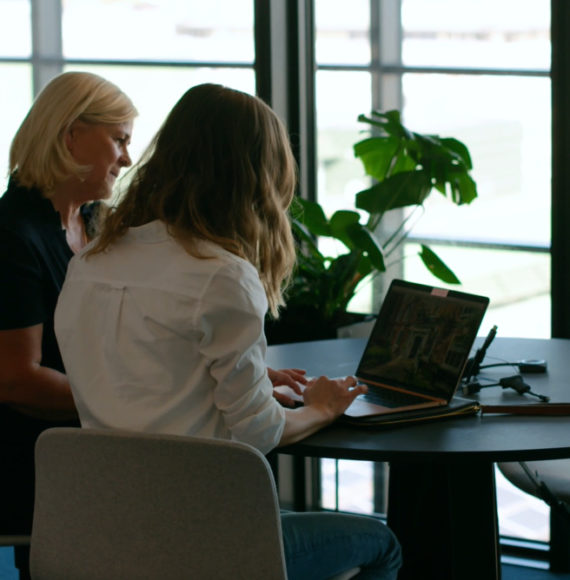 Research process in short:
Step 1:
Quantitative methods such as GSR and eye tracking, will be used together with qualitative methods (questionnaires) to test how participants perceive their surroundings in existing care homes. 
Step 2:
The same examination will be conducted, but in a virtual reality where participants will explore the VR care home environment on a computer screen. 
Step 3:
The results from the two examinations will be compared in order to devise a VR model that can replace IR – this step aims to validate how well the VR environment can represent the IRL environment.
Collaboration crucial for innovation
The project is being supported within the scope of the Formas' strategic innovation programme Smart Built Environment. The programme aims to contribute to faster, more sustainable and cost-efficient community building based on the opportunities provided by digitisation.
Collectively, the composition of the research project team meets the requirements of the innovation programme for the allocation of funding; Spinview's VR technology and technology platform, Tobii's eye tracking technology and collection of behavioural data, Altura's expertise in to developing care homes. This composition creates a broad spectrum of relevant and substantial expertise.
"Today, there is no standardised way of testing human neurophysiological responses in buildings, let alone in care homes. We have the opportunity here to create a standard tool that aims to ensure that care homes are built as good as possible. Both as a researcher and as a person, I value creating environments rooted in research that promote health."

Katarina Gospic
Brain researcher and Director of Neuroscience at Spinview.

"The ability to test various virtual designs allows us to select the most optimal ones for promoting health and a good work environment, before implementing them in physical construction. It will enable further resource efficiency and give us a scientifically founded insight into how we should design care homes of tomorrow."

Dorotea Stellmach