Building design to be shaped by human reaction captured by VR tech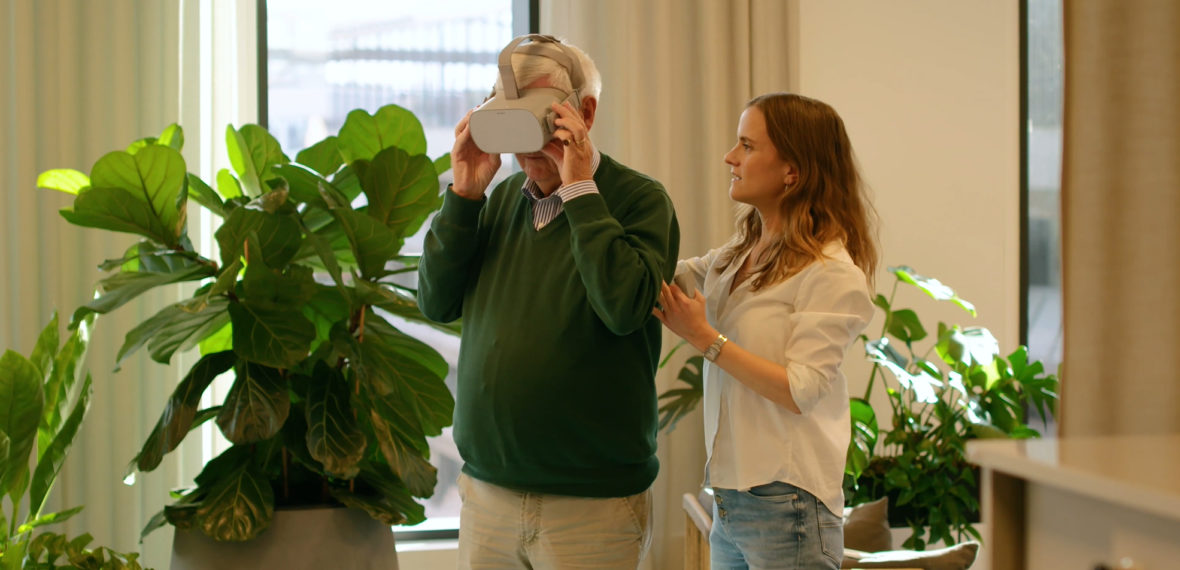 ● First of its kind study confirms virtual reality Digital Twins of new built environments can trigger the same emotional experiences as in real life (IRL)
● Findings pave the way for desktop VR to be used to enhance the design, health and wellbeing characteristics of commercial and residential buildings during the design stage
● Study led by Spinview and Dr Katarina Gospic, in partnership with the global leader in eye tracking and pioneer in attention computing Tobii, real estate firm Nrep, and partly funded by Formas, the Swedish research council for sustainable development
Real estate development practices are set to be transformed through leveraging virtual reality technology at design stage. New additions to the built environment now have the ability to be informed by the emotional responses of future users thanks to a new study
which confirms that the most sophisticated digital twins can produce the same human experiences as physical environments in real life (IRL) when exploring new spaces. Nrep, the urban investor with €19 billion of assets under management, is the first real estate developer to explore this new technology, with a view to incorporating into its development practices, supporting efficiencies as buildings meet their end users' requirements at design stage.
Led by Spinview, a London-based digital twin and visual intelligence start-up, and Dr Katarina Gospic, a neuroscientist from Brainbow Labs, the research shows how digital twins can be used in the planning and designing of new buildings, including those that factor in health and wellbeing outcomes. In recent years, the effects of the physical environment of care assets on the healing process have proven to be increasingly relevant for patients and residents.
To conduct the experiment, Dr Gospic, in collaboration with developer Tobii, measured the emotional responses and experiences of a sample of 10 senior people and eight health workers when exploring an elderly care home development in Stockholm, Sweden. Utilising Spinview's powerful immersive technology, a digital twin of the care home was created and uploaded to its web-based platform Vision, forming a desktop VR digital twin of the home.
The emotional reactions to both the physical and VR environments were carefully recorded and compared, in a randomised order. This was measured with eye tracking (ET) technology provided by Tobii, which recorded how the participants navigated their digital and physical environments. Galvanic skin responses (GSR), a method for measuring emotions, and State Trait Anxiety Inventory (STAI-s) were also sampled to crosscheck results obtained.
The results showed no statistical differences between the IRL and the desktop VR digital twin visits of the care home, for both the elderly and health worker participants. This shows the groundbreaking potential of digital twins when it comes to designing buildings, evaluating emotional responses to varying proposals, spotting areas of interests (AOI) within a particular environment and as a tool for future research.
Linda Wade, Co-founder and CEO of Spinview, commented on the start-up's involvement in the project: "We are delighted and honoured to have been a part of this historic study with Dr Gospic, Tobii and Nrep. Applying our visually intelligent digital twin technology to determine the health and wellbeing of a physical environment demonstrates how digital twins can be employed to inform the effective design of commercial and retail buildings beyond their simple aesthetic properties.
"Digital twin technology provides a cost-effective way of assessing both the design and health of a space. We look forward to future collaborations across academic, public and private spheres to encourage sustainable design and building practices."
Dr Katarina Gospic, Lead Neuroscientist, commented on the study: "We spend 90% of our lives in buildings and we know that spaces affect human emotions, health and behaviour. The beauty of this study is that it has great application to society. Desktop digital twins are a cheap scalable method that can be used to understand people's emotional perception of a space, providing a tool for architects, designers, real estate planners and other professionals, allowing them to get data early on to drive the basis for decision making when designing a new space – which could really improve the way we design spaces to boost health.
"The tool has other applications as well. By allowing experts from different professions to experience a space in this way, they can derive unique perspectives on health and safety issues. With concrete tools and measurements to quantify the emotional experience of a space, this could also be used as part of a company's sustainability report. Working smart from the start is sustainable from an economic, human, and environmental point of view."
Ali Farokhian VP of Enterprise solutions at Tobii, says: "At Tobii, we pride ourselves on being enablers of innovation, and this partnership is a good example where our technology generates new insights and perspectives. The study confirms the benefits of digital twins and being able to perform a trustworthy digital evaluation of design and architecture at
an early stage of a project is cost-efficient, makes it easier to include larger research groups as well as opens for increased innovation, which in the end will benefit end-users. However, it's important to highlight that real-life studies are still needed to provide architects, designers, and other professionals a full set of data and tools to construct and adapt buildings based on the resident's needs."
Rune Kock, Real Estate CEO at Nrep, says: "Our ambition is to create people-centred real estate that are more sustainable, equitable and liveable. We aim to be at the forefront of new innovations that offer a positive impact on the built environment, where this study and partnership with tech pioneers Spinview and Tobii illustrates a great example of our efforts to explore new, scalable solutions. The application of this new technology has the potential transform how new spaces are designed, allowing them to be an exact match to the needs and desires of future users."
The study was partly funded by a grant from Formas – a Swedish research council for sustainable development. The full report can be downloaded here.